Hey lazy legs, aren't you tired of always sitting around, not looking at art? You are? Good! Fortunately, you can resolve both of your life's failings this Saturday with LACMA's annual ArtWalk.
If you can throw on a pair of shoes (perhaps like the ones in the invite we designed), you can take advantage of FREE admission to LACMA, the Craft and Folk Art Museum, and the Architecture + Design Museum, as well as more than twenty galleries along the Miracle Mile. From 12 to 8 pm, there will be dance performances, live music, and interactive art projects—and just regular old art too.
That's not all. You can also join in on the ForYourArt aMUSEment Hunt. Get a sticker for each of the museums and galleries you visit and redeem them for prizes—from original prints to memberships.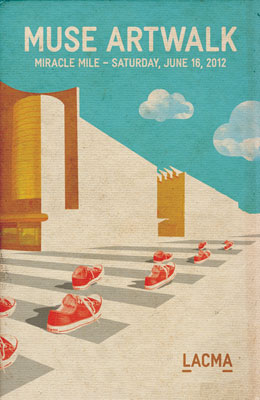 Still want more? Sheesh, I might have to start calling you crazy legs… You can also head back to LACMA for the ArtWalk After Party from 8:30 to 11 pm, featuring the Joshua Light Show and music by Dublab and Silent Disco. @scottfuse