I don't play League of Legends (LoL) myself, but I know many people who do. (It's much too exciting for me, I'm content with playing nice, low-key games such as Words with Friends, and refreshing the page to see if someone played any words back on Words with Friends, etc.) I also happen to know many people who work on and help create this world-popular fantasy PC game, most notably my fellow Ringling graduate, JP, a tech artist. It's because of that connection to this gaming community that I was invited to the opening reception for the ARAM show (All Random All Mediums) two friday evenings ago. This weekend-long art show was held at Gallery Nucleus and featured personal work by Riot Games artists.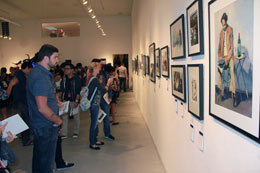 The artwork was spectacular – but of course it was… what else would you expect from the people who create the cool concepts and amazing visuals that bring LoL to life? Not only did we get to see what these artists do for personal expression, we were able to take a piece of their talent home. Creations from the Riot artists were available as part of the evening's silent auction to benefit the United Mitochondrial Disease Foundation, an organization that funds research for a cure. The event coordinator, also a Rioter, holds a very special place in her heart for this cause, as do all of the artists who participated in the event.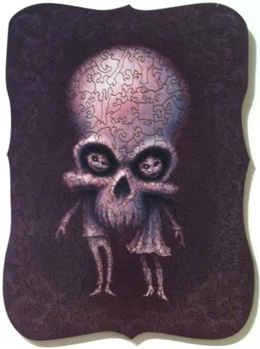 Highlights of the show and auction were a sweet yet sinister-looking illustration, "Unseen" by Edmundo Sanchez (senior concept artist), which is reminiscent of classic large skull illusions, and a giclee print entitled "Rusty", by Justin Albers (concept artist), which features a small robot character hiding behind a large tree being pursued by a rider atop a monstrously huge T-Rex-like creature. I bought a copy of the the former, while the latter was JP's auction win. What sold the piece for me was that this giclee print on wood had been custom-cut into a puzzle! So I'll have to earn the right to hang it up as it did in the gallery, no matter how many hours, days, or even years it may take me. (UPDATE! Aless unceremoniously completed it one night.)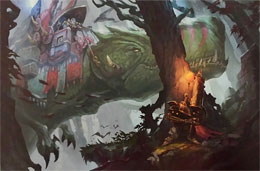 A little more about the gallery itself: Nucleus is a combination art/event/boutique shop space in downtown Alhambra, CA, and is always open to the public. The store front features apparel, books, toys and neat little accessories as well as prints from previous shows for sale. JP and I each actually ended up with additional prints: He with a neat, polygonal deer illustration, "Deer" by Laura Bifano, and I with an adorable watercolor piece "Dogs Being Dogs" by an artist who just so happens to be the next upcoming show. "If Dogs Run Free" by Scott C celebrates his latest book release of the same name. The opening reception welcomes both humans and dogs, complete with free refreshments for both species, and dog adoption opportunities with event partner What's Up Dog! L.A.! Almost makes a good excuse for me to get a dog just to bring him to this show, doesn't it? The show itself runs until September 15.
Check out Gallery Nucleus's website for more future exhibitions, and level up your exposure to some art and culture why don't you? @alessfuse