Going from one sun-drenched state to another doesn't usually pose much of a culture shock—unless you're going cross-country to do so. Which happens to be the exact thing I decided to do for my last true 'summer vacation'. Once the break started, I quickly picked up my life and shuffled off to California to grow artistically anywhere else but where I was. The biggest difference for me was going from my comfortably small college town of Sarasota, Florida with the average population of 52,000 and the average age of 65, to Pasadena's 137,000 strong and the average age being somewhere in the 30's. Thankfully, being raised predominantly on this side of the US, I was already accustomed to many ways of the West Coast culture. Now I'm just left to figure out how to continue functioning in this city without a car. I count my lucky stars for ending up in Pasadena, because I don't know of anywhere else in LA that is this walking accessible.
Just in residing here for a little over two weeks, I've already been enamored by the different things going on around me.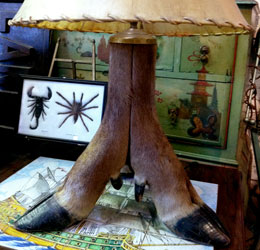 After meeting Jenn and the crew for the first time, I meandered a little ways down the road to be completely surrounded by antique shops. Some even boasting "strange and unusual" items. This is something that doesn't really exist in Florida, let alone the small town of Sarasota. Of course there are antique shops, but never with the variety of items I saw displayed in my three-hour stint (and again when I trekked to the Rose Bowl). I believe you natural-born Californians really take for granted how much better the resale shopping is when you have that extra 80,000 people contributing their things from grandma's attic.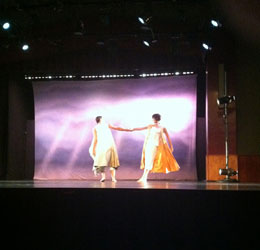 By working at the studio, I've become more aware of the various cultural activities happening in the LA area, some of which team Fuse are involved with personally. For example, last weekend I attended Jenn's dance performance (Works 2012) being put on in a newly converted space in a still functioning church. Not only was the performance fantastic, but also being in a new, and unconventional space added an extra sprinkle of awesome to the overall experience. There is definitely no church/dance theatre hybrid lurking anywhere in SRQ. 
But honestly, the thing I'm most star-struck from by living here in Pasadena is the food. As a self-proclaimed foodie, I'm not ashamed to say that one of the reasons I was so excited in coming here was to have the option for a variety of meals again. Florida, but especially Sarasota is a very homogenized area and trying to get a meal that isn't from a chain can be difficult—and healthy? Try somewhere else. But here, there is usually a separate vegetarian menu and practically everything comes with avocado! Which as you can tell, makes this person a very happy camper.
My overall goal for these next few months was experience, and because of the internship I was lucky enough to land and the area I am lucky enough to live in, it seems like getting myself involved in what's going on around me shouldn't be too daunting of a task. (This weekend you can find me at the Pasadena Chalk Festival and Make Music Pasadena. Art + 100 live bands, all for free! @GraceAhlizabeth)