NS: How did the name Studio Fuse come about? 
---
JL: Studio Fuse isn't actually our original name. We started out as Fuse Design, but were forced to change it about 10 years ago. In the end I'm grateful for the hiccup. That change, having the name start with an "S," spawned an identity that has been a great foundation for us.
The idea behind the name, specifically Fuse, was collaboration. When my former partner and I first started the business, it was about the fusion of our design thinking, but later it took on a much bigger, and more appropriate meaning: the collaborative way we approach working with clients.
NS: How has your passion for the arts directly influenced your career?
---
JL: I don't know if I could do the work we do if I didn't truly love it. The arts is an incredibly rewarding niche for design, but it's also very stressful. You're constantly having to adapt to change so your problem-solving brain has to be dialed in at all times. I think it helps that I have a somewhat unique perspective as a designer. I'm also a dancer and not only perform regularly, but help run the company I dance for, so I understand the chaos from both sides. I suppose that empathy and respect for the process makes me want to help that much more.
NS: Did you always want to have a company of your own, and if so, how important is that for you as a creative designer?
---
JL: Yes. It was my goal to have my own studio from my first year of college. My plan was to go out on my own by age 30. I did it at 25, and I'm glad I did. I think at that age I was too naive to know that what I was doing was crazy. I was naive and a little cocky. I truly believed that what my former partner and I had to offer the arts world was better than what they were getting and I wanted to prove it. We had had great opportunities to show and hone our design skills at Center Theatre Group where we both worked for four years, but I wanted to do more. I wanted to push further and see where we could take those skills with others arts organizations.
NS: What type of projects inspire you the most?
---
JL: That's a tough question. I love any design project. Even the most mundane piece presents its own design challenges. That's part of the fun…pushing something simple to make it more meaningful. But, to answer your question, personally I have two things that I could happily do 24 hours a day: key art and identity development, specifically logo design. Both are rewarding in different ways. They both involve complete immersion in the project: deep research, intense collaboration with the client, heavy reliance on symbolism and concept, iteration, and refinement. I love that process, it's something I can live in for a while. And when it clicks, when you see the ah-ha moment when someone gets what you've done…there's nothing like it.
NS: What's most rewarding about being a creative leader?
---
JL: I don't really see myself that way. I love to teach. I enjoy giving just enough guidance to steer something along so that my team retains authorship of their work. You'll often hear me say, "This is not the Jenn show." If I had all the ideas and skill (and all the time), I'd do this myself, but I don't. I hired my team because they're great at what they do, and they all bring something unique to the table… things I can't do. It's my job to give them the space to create, to be their advocate to the client and often vice versa.
NS: As founder and CEO you must always be on the look out for new talent. What qualities do you look for when building your design team?
---
JL: I suppose you could refer to the previous question for a partial answer, but more than talent I look for personality. We're a quirky bunch here, and we're really a small family. The creative process can get loud, messy and at times hysterical so it's very important to me that anyone new fit our dynamic. A sense of humor is an absolute must.
NS: What do you tell aspiring designers who want to build a career in this industry?
---
JL: Make your mistakes under someone else's roof. Find a mentor and ask questions until you're blue in the face. Watch, listen, read between the lines. 90% of this job is hearing what a client isn't saying. Take ownership of your work, but know when to let go. Be humble.
NS: What do you like best about working with the non-profit arts community?
---
JL: The answer is in the question: community. Maybe it's because I'm an only child from a tiny family, but I never felt more a part of something than I have working within this bunch of crazy, beautiful, visionary people that make up the art community in LA.
NS: What motivates you on a daily basis?
---
JL: It sounds cheesy, but it's honest: helping people.
NS: If you weren't a successful designer, what would your second career choice be?
---
JL: Hmmm. That's tough. I already do so many other things beyond my "designer" role, which is probably one of the reasons I still love it so much. I suppose I'd fall back on some of my other loves more: choreography and dance, writing, photography.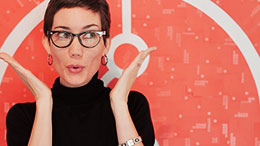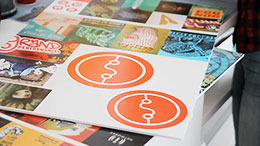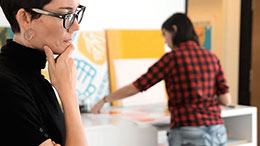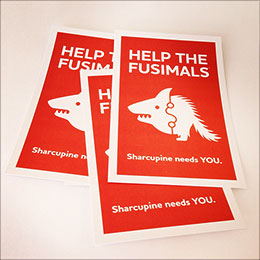 NS: What inspired the Fusimal Project?
---
JL: Ah the Fusimals, our little pet project. They started off as a funny idea for a self-promo piece, a way to play off of our name. If you remember the books we all had as kids that had the split pages with pictures of animals—you could have the top half of a giraffe and the bottom half of a duck. Well, it was a riff on that. The first version was photo-real, and forgive me Scott, kind of terrifying. He didn't give up on it though, and during some infrequent downtime he came up with the idea to use our logo as the point of fusion. It was brilliant. It took a long time to get the style of the animals down and get the combinations to work from a design perspective. It has been such a fun way for us to express our more humorous, irreverent side; and to showcase our copy writing skills as well. The Fusimal Project itself is a faux nonprofit we created to showcase the creatures. It's all for fun now, but we've got plans in the works for the characters to become much more than icons on shirts.
NS: 15 years is a long time… congrats! What do you attribute most to making Studio Fuse a success?
---
JL: Dogged determination, great relationships with our clients, and unwavering passion for both the arts and design as a process.